Magellan's mission is "to be Employee Centric & Client Obsessed."
Magellan Architects brings over 19 years of experience from a variety of project types. Whether we are providing onsite representation during construction or developing the initial design of the project, we recognize that the product must work for each specific client. Magellan prides itself on thinking like an owner and prioritizes our client's needs. We are responsible, proactive and innovative designers and ready to help you.
We are licensed in the following States and Countries:
Alaska, Arizona, California, Colorado, Connecticut, Florida, Georgia, Idaho, Indiana, Kentucky, Montana, Nevada, New Jersey, North Carolina,  North Dakota, Oregon, Pennsylvania, South Carolina, Tennessee, Texas, Utah, Virginia, Washington, and Brazil.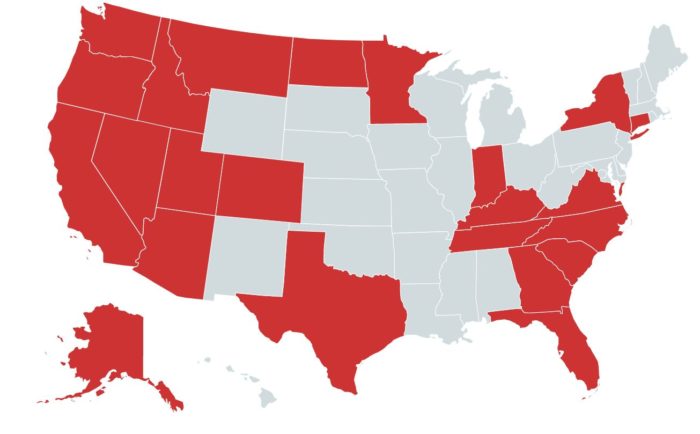 We also have several licensed Architects that are NCARB certified and LEED professionals on staff.
Architecture
Magellan is a full service architectural firm that prides itself on providing the optimal services based on the specific scope of each individual project. Those services might include:
As-Builts
Pre-Design and Programming
Schematic Design
Design Development
Construction Documents
Consultant Coordination
Permit Expediting
Construction Administration
Because each project is unique, we take the time to sit down and listen closely to our clients so that we can better identify the most appropriate services needed to meet the particular needs of each client.
Interior Design
We focus on providing appropriate interior design solutions that are aesthetically pleasing while matching the functional and budgetary goals of our clients.
Our interior design services include:
Space Planning
Finish Selection
Lighting Design
Casework Design
Furniture Layout and Specifications
We are well versed in a variety of different work environments ranging from focus to collaborative areas. We work with the client's needs to understand which environments will create the culture and function they desire for their space.
Planning
Magellan has carved its planning niche in the development of small to medium size, mixed use and retail projects. We place particular emphasis on visibility and access to the sites in order to maximize exposure and rents for our development partners. We coordinate with the jurisdictions early and often to ensure that all development requirements are known and addressed in a proactive manner.
Predesign
Magellan believes that the success of a project is often set in the pre-design or due diligence phase of work. As such, we devote significant attention to detail for this effort. We strongly believe it allows us to identify overlooked opportunities and avoid poorly performing assets.
Magellan works in partnership with our clients during this phase to incorporate their thresholds for budget, scope, schedule, and return on investment into the project analysis. As a team, we reach a conclusion as to whether a project is deemed feasible at the current time, noted as requiring additional information, or labeled as requiring more favorable market conditions before proceeding.
Programming
We work closely with the Client to define the function, relationship, and square footage of physical spaces to be included within a project. The clients vision is maintained regardless of whether the goal is to enhance functionality, accommodate new needs, increase business, or redefine aesthetics. We will also bring our own creative ideas to the process and technical requirements for ancillary spaces that might be needed to support the primary functions.
Programming can range from a one on one discussion with the client to numerous large focus groups with various stakeholders. Magellan is well versed at both scales and enjoys understanding the nuances of each space so that the final design truly meets the client's expectations.
Feasibility & Development Analysis
We work with clients to understand the local marketplace and to develop potential solutions that will optimize their investment goals. We will analyze proformas, land use, building codes, and site constraints as well as market and construction trends with an emphasis on enhancing the property value to revitalize businesses. Whether it's a vacant lot or an existing development, Magellan staff are uniquely equipped help our clients get the most of their real estate investments.
Project Management
Our project management goals and approach mirror that of our projects. We strongly emphasize planning, regular communication, and periodic reassessment. We want to insure that we have selected the appropriate project course for the desired outcome so that we continue to remain on track. Our focus on collaboration and team approach routinely lead to a positive outcome for our clients. This management style has been the cornerstone of Magellan's success since its inception.
Magellan Architect's corporate support helps us ensure the academic rigor, professional excellence, and extraordinary care of students. It is through our collective creativity and community building that we are able to accomplish our vision and mission.
Our experience working with Magellan on the Factoria PSE project was very positive and memorable. Your firms ability to listen to the customer and create an extremely efficient LEED project with great design features was incredible. Your team worked very well with all the consultants and engineers and as the General Contractor, we were happy with your ability to answer questions quickly and work together on solutions that helped us stay on schedule and on budget.
Garlic Jim's couldn't be happier with the level of professionalism, attention to detail, and quick and accurate work Magellan has provided over the past several years, and of course your beautiful designs that have become the image of every Garlic Jim's restaurant.
Throughout our project, I found Pedro was very easy to work with. He listened carefully to all that was said by the committee and parish staff, and he made every effort to incorporate all of the suggestions and desires we expressed. I particularly appreciated Pedro's devotion to detail in all areas of design. I would recommend Pedro and his team at Magellan Architects for any church project.